Domain Name Registration
www.yourdomainname.com.au
Before you have a website, you'll need a domain name.
www.yourdomainname.com.au
A domain name is promoted so that customers can easily find your specific goods or services. Each website has its own distinct domain name, allowing it to be distinguishable from other sites.
We can research alternative domain names available and advise on what may suit you best.
We can register the domain name on your behalf as well as advise on the different extensions and variants available and discuss why you may wish to consider these.
Domain names are unique; let Clark Marketing & Design secure yours now before someone else snaps it up!
Once you have secured your domain name you will require web hosting.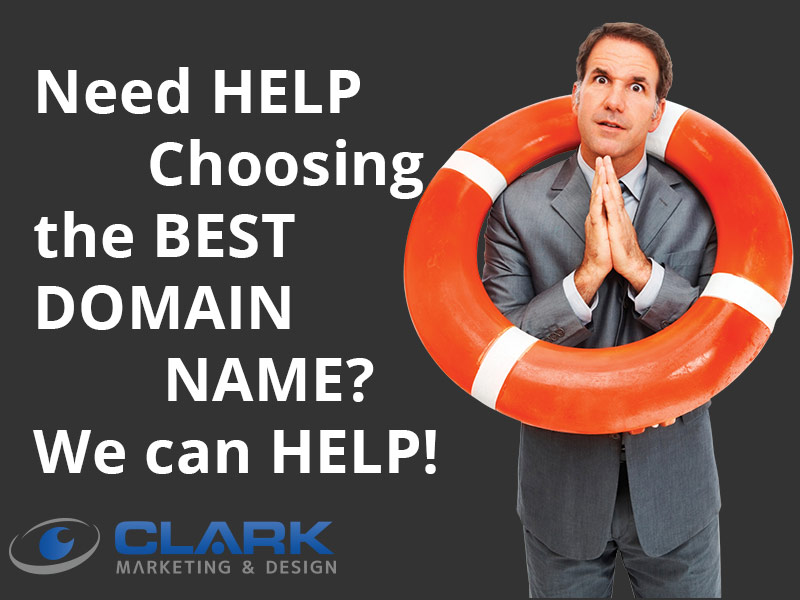 Choosing the Right Domain Name
Choosing the right domain name for your website is crucial for your success. If you choose the wrong domain name, then it can be a hassle to switch later on without hurting your brand and search rankings.
That's why you must choose the best domain name from the start.

How do you select a good domain name?
Firstly, having a good domain mame strategy and considering alternatives helps you register the best domain name possible.
Here are some domain name tips to consider:
Shorter is usually better because they're easier for customers to remember.
Make it easy to remember. This is why many businesses get domains with their business names in them.
Avoid where you can, numbers or hyphens. If your business name has a number in it, for example, Real Estate 1, register both versions — with the number www.realeesate1.com.au) and with the number spelt out (www.realestateone.com.au).
Consider keyword orientated domain names, for example, cheapdomainnames.com.au, remember the domain name does not have to be your business name. Using the right keywords for your website's name gives prospective clients a clear idea of what your site is about and can be beneficial for boosting your SEO (Search Engine Optimisation) rankings.
Check alternatives, for example, domainname.com.au, domainname.com, domainname.net.au, domainname.melbourne etc. One key reason for this is, apart from being possibly useful in the future, it's often as a defensive strategy. If you own it, someone else doesn't!
Find out more about selecting the right domain name here.
How do domain names work?
Every domain name has a unique IP address. An IP address (which stands for internet protocol address) which is an identifying number. When connected to the internet, the IP address allows the computers to send and receive information.
The problem is that remembering a long set of numbers for every website you want to visit can be quite difficult, not to mention time-consuming. So, to make the user's life easier, domain names were created as human-friendly equivalents to IP addresses.
When you type a domain into your web browser, your computer will check a DNS server—a supercomputer that acts as a database for all IP addresses and their corresponding domain names—to obtain the specific IP address of the site you want. Once it is found, your computer will fetch the website pages and show them to you through your web browser.
What are some of the different domain name extensions to choose from?
With the internet, the World Wide Web and the volume of new websites expanding every day it's no wonder many new domain name Extensions are becoming available.
Domain name extensions are the last part of a domain name. For example, in 'clarkmarketing.com.au' the domain name extension is .com.au.
Most people would be familiar with domain name extensions such as .com, .com.au, com.uk, .net, .org etc but many new extensions are now becoming available for example:
.online
.shop
.store
.melbourne
.blog
.consulting
.bar
.cafe
.plumber
And, the above is just a very, very small sample. Now there is a domain extension for nearly every industry, country, region, town, business type, activity and more.
Website Design
Web Design with Marketing Expertise
Website Hosting
Reliable and high-performing website hosting
What our happy clients are saying about our services:


"Website looks and works great! We are getting excellent inquiries constantly from end users which turn into regular customers. Really appreciate your advice, work and support."
– Paul Rogers – Managing Director – Westair Filtration

"I chose Clark Marketing & Design because they presented as an honest, down to earth business, that demonstrated themselves as capable and hardworking. I haven't been disappointed! The website is working for us and bringing us business!  I like their "can do" attitude."
– Skye Neicho – Director – Align Asphalt


"Wow! I just wanted to say that you have turned our business around! In 15 years of being in business, business has never been so good!!!  The phones are running hot and what can I say, you have gone above and beyond what we expected!"
– Cameron & Julia – Owners – CMD Bathroom Renovations

"Thanks for all of your hard work on the website. We are very happy with the result, thank you so much, you have done a great job"
– Matthew Holdsworth – Park Valley Valuations

"Just wanted to let you know the skylights-online website shop not only looks great, it's making the on-line sale process very easy for customers and we are getting great sales. This is all making a huge difference for our business! Thank you again!"
– Paul Jones – Managing Director – Skylights-Online

"Great job with the new website, everyone is really happy and it gives us the presence online that we needed. Some really positive comments and results so far."
– Mark West – General Manager – Crystal Image Blinds


"Book now with Clark Marketing and Design, this is one of the most important things you can do for your business. I can honestly say that Clark Marketing & Design has played a major part in the growth & success that Nelson Asphalting has experienced since we started.…… all I can say is WOW, they're amazing!"

– Clinton Nelson – Nelson Asphalting

"Would highly recommend Clark Marketing to anyone looking to launch a website. We've ended up with a website that perfectly reflects our business."
– Louise Turnham – Main Street Dental, Lilydale

"We found the service of Clark Marketing & Design second to none to produce a new website that not only reflected our business perfectly but one that really stands out and can be found easily."
– Simone van Gemert – Connellan Industries Pty Ltd


"Couldn't be happier with the website Clark Marketing produced for us! Went together nicely with no stress what so ever. Highly recommend for any help growing your business and getting your name out there, thanks guys."
– Jordan Lawton – Owner – Lawton Retaining Walls

"When it comes to logo and website design in Melbourne, there is only one name I now trust – Clark Marketing & Design. They were highly professional and took the time to understand our goals and needs. Highly recommend."
– Adam Bertram – Splash Editing
Select the Right Domain Name
Buying a Business with a Website
Connect with Clark Marketing & Design
When you work with Clark Marketing & Design, you'll find the experience to be a pleasant one,
done with expertise and a minimum of fuss.
Mon to Fri: 9:00am to 5:00pm