Local Search Engine Optimisation
Local search ranking factors
Local search continues to see significant growth and change.
Each Year MOZ (A world-leading SEO and SEO Software Company) publishes a Local Search Ranking Factors survey results and the 2018 results are in!
As the landscape of local search changes year to year, it's exciting to see the shifts in the areas that require focus and dedication to beat the competition and earn the top-ranking positions in search results.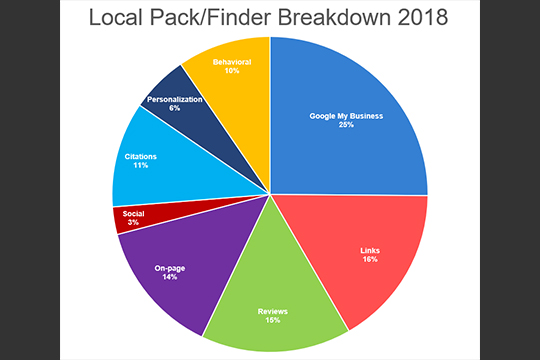 Google My Business SEO signals
We've reviewed the Local Search Ranking Factors survey results for 2018 and cut through some of the technicalities to provide a summary of the key factors that have changed, and that are affecting local search results in Google.
The biggest shift this year is happening in Google My Business signals, but there's also an increase in the importance of Google Reviews.
Google My Business
So, it's important to understand exactly what Google My Business is. Google My Business is a tool for businesses and organisations to manage their online presence across Google, including Search and Maps. By setting up, claiming and verifying your Google My Business Listing and then editing, optimising and maximising your business information, you can help customers more easily find you as well as maximise the exposure of your business products and services, plus help your business and website stand out on Google.
These Google My Business listings also appear in keyword searches. This makes them very important to ensure they are up to date and optimised especially with such a rise in searches made on mobile phones. The reason for this is they are amongst the first things a searcher will see in the search results pages, usually under the paid adverts, then the Google My Business listings, then the organic search results. However, in some cases where no paid adverts appear, they appear first!
As part of the Google My Business platform, which was introduced late in 2017, Google ramped up the opportunities for business for local search by introducing Google My Business feature Posts. This feature allows you to publish your events, products and services directly to Google Search (in the Knowledge Panel) and Maps. Google Feature Post content appears in both Google search and map results.
Read more about Google My Business Feature Posts.
The 2018 Local Search Ranking Factors survey from MOZ stated: "GMB Feature Posts are one of the more interesting opportunities in local SEO these days. The control you have over the messaging allows for a lot of creativity. In particular, we are seeing traction in cases where branded searches are "leaking" clicks to other domains in the SERPs. GMB Feature Posts are a great way to attract more engagement and clicks from potential customers who are already searching and maybe in buying mode."
What's more, Google is now placing more emphasis on these Feature posts!

The other key output we took from the results was that the Google Reviews, like them or hate them, are on the rise!
Review signals for local search have also seen continued growth over last year. The importance of Google Reviews signals have steadily risen since 2015 when they were listed as contributing 10.8% and in 2018 showing an important factor of 15.44% that's a 43% increase in the importance of review signals in 3 years!

The final thing we took from the results was that Citations remain very important although the signals are slightly less than in 2017. Very importantly citations are still very valuable and very important for local search.
To find out more about Citations for local search here.
So, let's, break it down to simplicity and what you should be doing to increase your business and website exposure in 2019:
Make sure your Google My Business profile is 100% complete and fully optimised. (oh, and if you haven't got a Google My Business profile – get one NOW!)
Start using Google Feature posts NOW.
Regularly upload new photos and videos to Google My Business.
Work on getting more Google reviews (obviously). Ask every customer.
Encourage keywords in the reviews by asking customers to mention the specific service or product in their review.
Respond to every review.
Seed the Google Q&A with your own questions and answers.
Why spend your time on these activities? Besides the potential relevance boost, you'll get from the additional content, you're also sending valuable engagement signals to Google. Regularly logging into your listing and providing content shows Google that you're an active and engaged business owner that cares about your listing, and the local search experts are saying that this is also providing ranking benefits. There's another engagement angle here too: user engagement. Provide more content for users to engage with and they'll spend more time on your listing clicking around and sending those helpful behavioural signals to Google.
Need help? Did you know that Clark Marketing & Design can help you with your Google My Business, along with important SEO Services?
Connect with Clark Marketing & Design
When you work with Clark Marketing & Design, you'll find the experience to be a pleasant one,
done with expertise and a minimum of fuss.
Mon to Fri: 9:00am to 5:00pm