Easy Way To Get More Google Reviews
What you need to know!
Do you want to provide an easy way for your customers to quickly write a review for your business on Google My Business?
Sure you do!
Here is a quick and easy way to give your customers a single link that they can click on to take them directly to the review form on Google My Business for your business.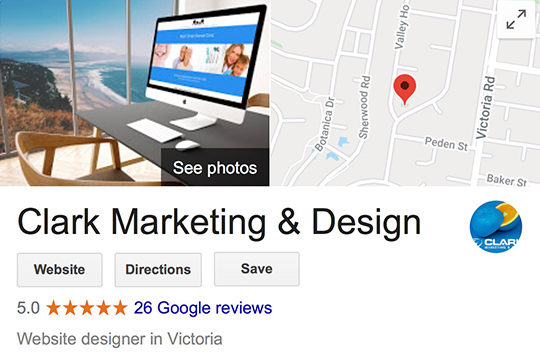 Follow the 3x easy steps:
Step 1: Sign in to Google My Business
Step 2: In the menu on the left, click Home.
Step 3: In the "Get more reviews" card, you can copy your short URL to share with customers.
https://g.page/ClarkMarketingDesign/review?rc
You can now share your short URL with customers from your Google My Business Listing.
All businesses who have claimed their short name in Google My Business can have a shareable short URL directing customers to leave reviews.
If you haven't set up your Google My Business short name, which makes it easier for customers to find and follow your business on Maps and Search, this can be done very easily under the info tab.
Now if you find the above link a little daunting in length, then you can go to this website and shorten the URL: https://bitly.com
Simply copy and paste the above link into bitly and it will automatically shorten it to the below much friendlier URL – try it:
Which can be simply added to your emails or thank you messages when you request a review of your business.
Want more help getting on top of Google?  Find out more about our  expert SEO Melbourne services
Connect with Clark Marketing & Design
When you work with Clark Marketing & Design, you'll find the experience to be a pleasant one,
done with expertise and a minimum of fuss.
Mon to Fri: 9:00am to 5:00pm